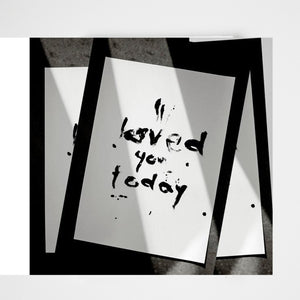 Pour l'air I Loved You Today poster.
I loved you today is painted by Jocelyn Fortier as a reminder to look back at a day and find something you loved in it. It's about gratitude and loving a day.
size_ 16.5" x 23.5"
Printed on matte cover weight. Unframed. Unmounted
Use the poster as decor, as a huge love note, as company morale building and more. It's flexible and purposeful. 
Shipping may not appear correct for you. Please contact us, or place your order so it shows up in our system. We will provide a shipping quote.